Obtaining enough LEED points to meet your target is not always easy and can result in additional expenses. Apart from mechanical services and architectural design, did you know that there are a number of LEED points that you can get from the implication of your structural engineer?
SBSA Experts-conseils en structure has worked on various LEED projects from LEED Certified to LEED Platinum in the past few years, and can help you meet or exceed your LEED goals. Below is a list of five ways to obtain LEED points from your structural engineer.
1- Sustainable Sites (SS) – Site Development: Protect and Restore Habitat – SSc2
Modular construction using prefabricated wood or steel modules are one of the ways to preserve and protect from all development and construction activity 40% of the greenfield area on the site. Other methods include using cantilevered structures in order to reduce the base building footprint.
2- Materials and Resources (MR) – Building life-cycle impact reduction – Abandoned or Blighted Building
In order to obtain this credit, it is required to maintain at least 50%, by surface area, of the existing building structure, enclosure, and interior structural elements for buildings that meet local criteria of abandoned or are considered blight. The building must be renovated to a state of productive occupancy. A structural assessment of an existing building can help determine the current state of the building's structure. Many structures can be rehabilitated to meet current code requirements, and reinforced to support modifications, or to be used for different occupancies than originally designed for.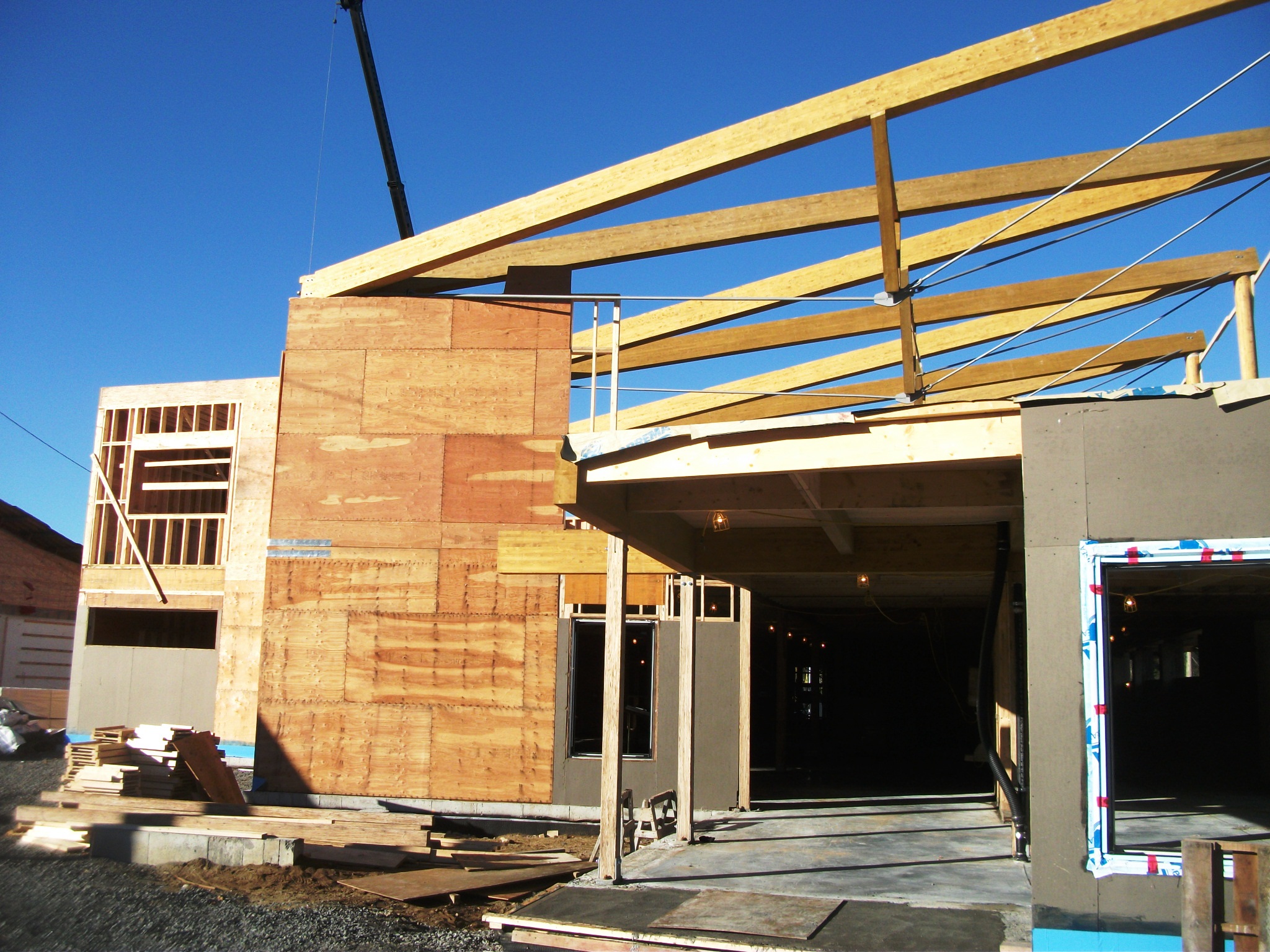 Chalet Castor – Wood frame building with steel reinforced wood trusses
3- Materials and Resources (MR) – MRcHealthCare – Design for flexibility
Early implication of the structural engineer in the design phase can help achieve a construction that is more flexible. Examples include designing for future vertical expansion on at least 75% of the roof, as well as designating space for future above-grade parking structures equal to 50% of existing on-grade parking capacity.
4- Indoor Environmental Quality (EQ) – Low Emitting Materials EQc2
Exposed wood structures can be used in buildings as they emit low levels of VOCs. Adhesives used in engineered wood and wood substrates meet South Coast Air Quality Management District (SCAQMD).
5- Innovation and Design (ID) – Pilot Credits – Legal Wood
The legal wood pilot credit can be obtained if 100% of all wood is verified to be from Legal (non-controversial) sources as defined by ASTM D7612-10. These components include at a minimum, structural framing and general dimensional framing, flooring, sub-flooring, wood doors and finishes. Wood framing can now be used in buildings up to 12 storeys high.
Below are links to some of our recent LEED projects:
https://sbsa.ca/portfolio/abb-campus-montreal/
https://sbsa.ca/portfolio/broccolini-corporate-centre-saint-laurent-2/
https://sbsa.ca/portfolio/5th-combat-engineer-regiment-facilities/
About the author: